Sharp & Carter recently hosted an interactive webinar on HR Leadership During and After a COVID-19 World with guest panellists Kathleen McCudden, Group HR Director for SEEK Australia, and Jill Bye, Chief People Officer for the University of Tasmania hosted by Stephen Carter, Founding Partner for Sharp & Carter.
Kathleen and Jill were authentic when chatting with Stephen about the work their organisations have been implementing from a strategic and tactical point to help pivot and adapt to the current environment. Here are just some of the key takeaways from the live discussion that was had.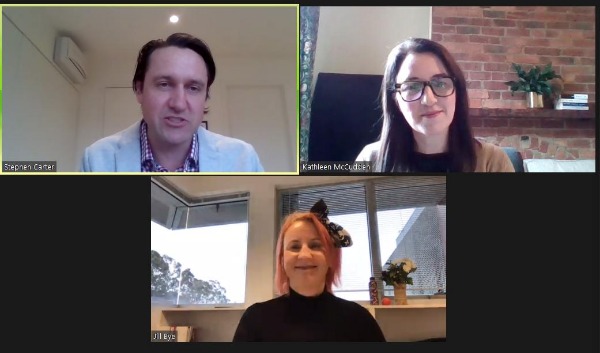 How is The HR Profession Being Affected by The Pandemic?
The COVID-19 pandemic has tipped organisations upside down, requiring HR Managers and Practitioners to adapt rapidly and steer organisations through rough and untrodden territories.
HR teams have had to implement strategies to cope with the new normal overnight as face-to-face interactions were (and still are in Victoria) replaced with technology for operational sake.
Not only are HR professionals concerned about their employees' wellbeing and leading an organisation through such a crisis, but they are also faced with unprecedented stress processing the dynamic pace as employees themselves.
Just some of the challenges most organisations have faced include; project pauses, new tactical demands, budget constraints, the maintenance of culture, prioritising employee and personal wellbeing, the transition to remote working and learning and the navigation of OHS issues.
Despite harsh times, Jill has seen this period as an opportunity to increase the profile and highlight the importance of HR as a function to support businesses core asset – their people.
"Right now, business leaders are looking to HR for assistance not only for tactical solutions but also as expertise to help guide more broadly across the business." – Jill Bye.
​
Coping With The Pressures
Kathleen outlined that when navigating important decisions throughout the past few months, SEEK's leadership team continuously referred back to the organisations' core vision and purpose for decision making. A focus for them has also been, trying not to fall behind in delivering their strategic vision. This plan of attack has helped their team address short- and long-term decisions.
Kathleen also explained that SEEK has prioritised regular internal communications with the CEO, the executive leaders and all employees; with an emphasis on respect, transparency and context. She credits frequent and open communication as being important in providing people with a sense of calm and focus – which has been extremely well received by people. "During a time of crisis, leaders must be visible and communicate often, and usually, the important messages will need to be repeated in order to be well understood. Effective communication from our leaders has critical for morale and engagement over the last few months and this will need continue". ​
| | | |
| --- | --- | --- |
| | ​ | |

Maintaining Culture While Remotely Working
Modern technology has played an enormous role in enabling business continuity. It has also been useful to maintain relationships and connections and foster efficient communication among teams. Remote working has, however, proved challenging to embed new workers within a workplace, replicate inadvertent connections and build rapport in some instances.
Jill credits the University of Tasmania's ability to preserve and maintain culture to their capability to reinforce values through continuous communication while embedding cultural vernacular into all interactions, whether it be verbal or non-verbal.
Kathleen mentioned that SEEK conducted a survey with all employees calling for input and feedback that covered topics from wellbeing to remote working conditions, to preferences around returning to work. The rich insights that came from this survey not only helped guide decision making and determine the sentiment from employees, but it also invited input from employees, transparency and collaboration.
Moreover, Sharp & Carter's HR Principle Consultant, Haylea Smith noted (from discussions with numerous other HR leaders) that many workplaces have rolled out initiatives and resources to bolster connection, support and motivation that is not work-related. Some have been activities such as virtual quizzes, yoga, at-home care packs etc.
Management of Wellbeing
Managing employee wellbeing is tough while teams are dispersed. Personal wellbeing often, therefore, becomes less of a priority when faced with such unique and taxing pressures. At the end of the day, HR staff are also employees of an organisation so personal wellbeing needs must be met to manage fatigue.
To aid in the management of employee wellbeing, both SEEK and the University of Tasmania has developed and implemented various resources and tools for staff to cope and manage:
Educational tools and resources on maintaining mental and physical health;

The reinforcement of flexible working arrangements for parents and all employees;

Additional COVID leave;

Increasing the level of EAP support per employee;

Leadership coaching to help management lead from the front; and,

Encouragement of staff to take leave (not only beneficial from a fatigue and wellbeing perspective but from an organisational liabilities standpoint).
It is important to note that both organisations have been fortunate enough to provide and implement such tools. They have also been privileged to escape the harsh reality of managing redundancies, which adds an entirely different level of stress.
Throughout this period, Kathleen has been implementing personal principles to help manage stress and fatigue. Simple things like taking time out to carry out activities she enjoys, such as reading a book and exercising have been vital. She also praises the ability to not over-consume information and news, has assisted while setting clear boundaries between work and home life.
Many employees have also cancelled leave and have not been taking breaks due to the restrictions regarding travel. However, this is something Kathleen has been adamant on doing. She is taking a few days off in the coming weeks as a much-needed break to switch off and hopes that others within her team will follow.
| | | | |
| --- | --- | --- | --- |
| ​ | | | ​ |

Managing Working From Home
Managing the working from home scenario has been challenging given how rapidly organisations needed to adapt. From OHS considerations to budget challenges managing infrastructure to engagement and performance considerations – there's been a lot for HR to manage.
Many organisations have provided staff with resources and checklists to ensure working from home setups have been adequate. This has not only been to support and protect workers safety but to minimise company liabilities. Some businesses have requested images of employee home offices to ensure compliance.
(For further helpful tips and resources on managing OHS, these can be found in the footer of this blog post.)
In some cases, progressive companies that are considering WFH as the new normal has provided allowances for existing employees and new starters
to set up home offices adequately.
What has been apparent during this experimentation of remote working has been the need for leaders to manage staff using Trust by empowering employees to take accountability and ownership of their work.
Jill made a logical point regarding the inadequacies of micromanaging virtually. She mentioned that a way to combat this style of leadership is by encouraging managers and leaders to coach staff, focusing on the communication of outcomes and clarity in expectations of the team.
Pre-pandemic, Sharp & Carter allowed staff to set their own flexible schedules. This has been a tangible output from one of the four cultural pillars of the Business – Trust. At Sharp & Carter, Trust is used as a way to increase the engagement and motivation of the team. Trust is used as a primary way of managing the business. For more details regarding Sharp & Carter's leadership style using Trust, read Stephen Carter's previous blog post HERE.
Planning for the Long Term
There's so much to consider, and it can be overwhelming for the most part, but it's important to remember that every organisation is different with vastly unique variables. There is, therefore, no specific rulebook when dealing with the COVID Pandemic. What can be done is the implementation of principles and resources which can be guided from government recommendations and HR organisations to help support and guide your organisation to suit individual business requirements.
Helpful links can be found below:
Should you need further support in an HR specific capacity or for recruitment needs relevant to any of our specialised industries (below), please contact us
​
​